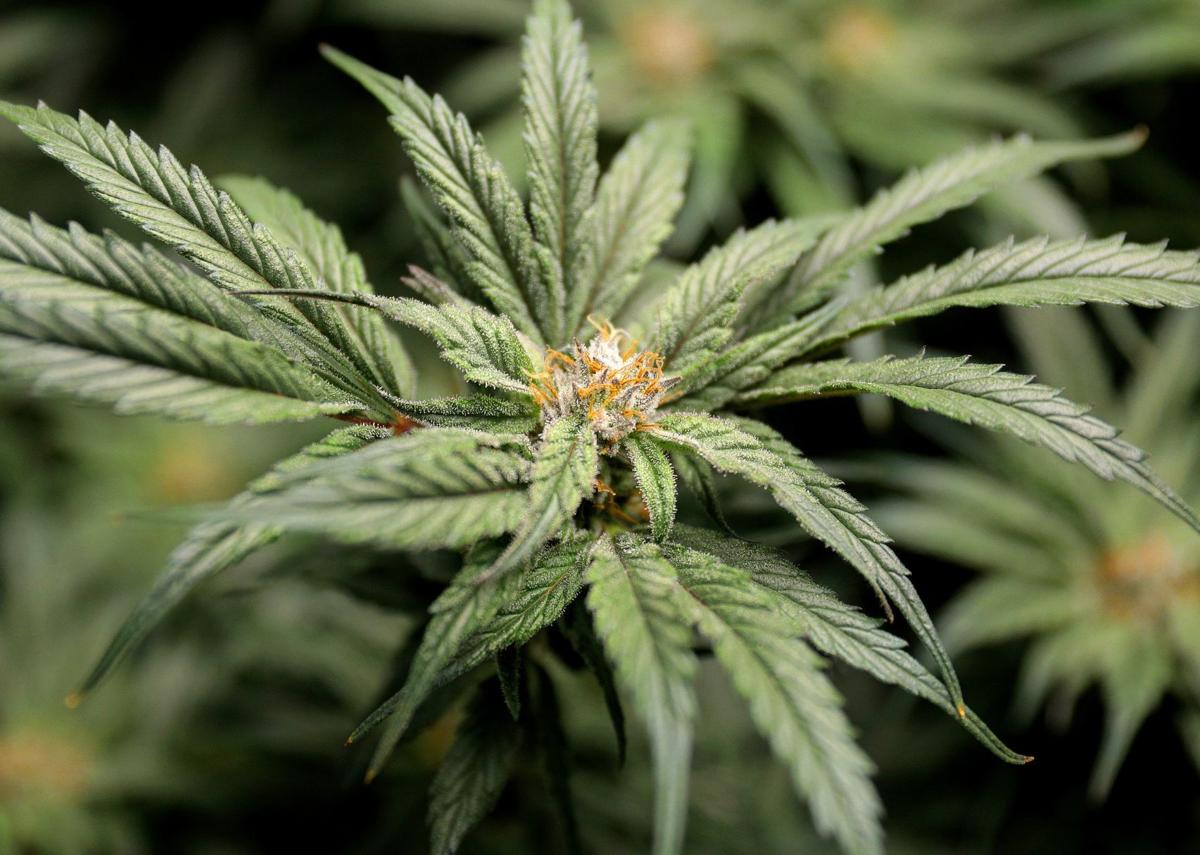 JEFFERSON CITY — Seven months after state officials finished awarding medical marijuana business licenses, regulators have spent $1.3 million in court to defend themselves against a wave of lawsuits filed by businesses whose applications the state denied.
Rejected applicants originally filed 853 appeals against the state through the Administrative Hearing Commission, and as of Wednesday, 785 cases were unresolved, said Lisa Cox, spokeswoman for the Department of Health and Senior Services, which runs the medical marijuana division.
Legislators aren't done probing the program just yet.
The state health department, over the summer, delivered a cache of records to the House Special Committee on Oversight, which hasn't met since receiving the documents.
The panel could meet this week as lawmakers return to Jefferson City for their annual veto session.
Rep. Peter Merideth, a St. Louis Democrat and member of the committee, predicted Thursday the Republican-led panel would hold a hearing in the "very near future."
Lawmakers criticizing Parson's administration said a limit on the number of licenses the state issued, as well as a flawed scoring system that led applicants to mistrust the process, would cause months, if not years, of costly courtroom fights.
The state says limits on licenses are designed to reduce oversupply and stymie diversion of marijuana to the black market, even though the state has also instituted a seed-to-sale tracking system for plants to prevent diversion.
The money spent on legal fees to private law firms — $1.29 million so far — comes from fees medical marijuana cardholders and business applicants have paid the department. Those fees, after covering the cost of running the program, are supposed to be deposited into a new Veterans' Health and Care Fund.
The program had generated $19 million as of December, meaning the state spent nearly 7% of fees collected last year on legal expenses. The health department had, as of December, spent another $3.1 million administering the program.
By Friday afternoon, Cox said the department "started the first transfer process today" for the Veterans' Fund. Late Friday, DHSS said in a news release it was transferring $2.1 million.
Merideth said the scoring process and an "arbitrary cap" on business licenses upended faith in Missouri's program, touted by proponents as an economic boon for areas affected by decades of disinvestment.
He said allowing the free market to operate, where companies are largely allowed to compete so long as they meet state standards for security and safety, would be the only way for producer supply and consumer demand to reach equilibrium.
"There are businesses across our state ready to get off the ground, and government's getting in the way and stopping them from doing it," Merideth said. "And instead of raising money for veterans, from this whole business development in our state, we're spending that money to pay lawyers and fight to keep businesses from opening."
Cox, spokeswoman for the medical marijuana program, described the legal fees as a one-time cost associated with getting Missouri's program up and running.
She said the state received 2,270 facility applications but only awarded 348 total licenses, which the department, in an informational flier, claimed was "more than enough" to meet the demands of Missouri patients.
"The number of appeals is not an indication of flaws in the process, but rather the high number of applicants," Cox said.
Courtroom showdown
Not so, said Chuck Hatfield, a Jefferson City attorney representing eight clients with cases before the Administrative Hearing Commission.
Hatfield said some of his clients submitted the same answers on their applications as other applicants yet received lower scores from the state's third-party scorer, Nevada-based Wise Health Solutions.
"They answered verbatim the way other applicants answered, because a lot of the applicants shared common consultants on certain issues," Hatfield said. "And so our answers are identical to the word, to the way other applicants answered, and yet we got a different score."
Hatfield had obtained other applicants' applications to prove his point, but the state has declined to confirm the authenticity of the documents Hatfield is using at the Administrative Hearing Commission.
In August, the courtroom showdown intensified when the Department of Health and Senior Services filed a petition asking the Cole County Circuit Court to block Commissioner Sreenivasa Rao Dandamudi from ordering release of the records to Hatfield.
On Sept. 4, Lyndall Fraker and Amy Moore, the director and deputy director, respectively, of the medical marijuana program, sent a letter to licensees saying their confidential business information could be jeopardized by ongoing appeals.
They said developments at the Administrative Hearing Commission "threaten the confidentiality" of business applications and that unless the commission or a court finds otherwise "you can expect that your application — including its most sensitive aspects — will be disclosed and become public."
Hatfield said the issue is not whether the applications are made public, but whether other litigants can seek them from the DHSS under a protective order, keeping the documents sealed from the public.
The state, Hatfield said, likely does not want a precedent set that requires officials to release the documents in any capacity.
"I'm sure they (the state) are worried about having to exchange that information in all of the cases," Hatfield said.
This isn't the first time the DHSS fought to keep applicant information secret.
Last year, the department said the constitutional amendment legalizing medical marijuana prevented the state from releasing forms businesses submitted when representatives submitted nonrefundable filing fees.
The state is still keeping secret ownership structure forms companies submitted, which would detail investors in medical marijuana businesses.
Caps, no caps
Jack Cardetti, spokesman for the Missouri Medical Cannabis Trade Association, said the state set a license minimum that requires Missouri to issue more licenses than in other medical marijuana states. He said others will inevitably win licenses at the end of the appeals process.
"That's exactly what the voters voted on, which is a really good sort of middle ground where patients have plenty of access — 192 dispensaries at a minimum," Cardetti said. "What Missourians don't expect to see, and frankly don't want to see, is a dispensary on every street corner."
Hatfield compared the current caps on medical marijuana licenses to the state's regulation of casinos, which are limited to 13 statewide. He said one of the reasons for those caps is to "protect them (casino owners) from competition."
While Hatfield said "you don't want a bunch of guys in a jon boat running a casino," he added that limits on marijuana businesses are harder to justify.
"If I meet all the minimum requirements — whatever those might be — and I want to go set up a dispensary in Jeff City," he said, "and somebody else gets a license right next door to me, one of us is going to go out of business, most likely. So why not let the marketplace, why not let the customers determine that?"
"We don't limit the number of liquor licenses," Hatfield said.
In the pipeline
Despite ongoing legal disputes, hundreds of licensees are now on individual tracks, hoping to open as soon as possible.
In a statement late Friday, Fraker said he was "confident" that medical marijuana will become available for patients this month, and that "the first testing laboratory is on track to be operational very soon."
Three licensees had passed their commencement inspections to start growing, Cox said: Archimedes Medical Holdings in Perryville, BeLeaf Medical in Earth City, and Feelz Good Green Products in Carrollton.
Four other cultivators had initiated their commencement inspections, which were in progress.
Maximo Bonanno, listed as Blue Arrow Holding LLC's authorized representative in state documents, said the company had planned to open a cultivation facility at the Lemp Brewery on South Broadway in St. Louis.
After a "full-fledged structural and environmental analysis" of the brewery site, he said Blue Arrow Holdings scrapped plans to grow there, instead securing state approval to move to a new site on Bulwer Avenue in north St. Louis.
Bonanno, a partner at Quarter Coast Consulting, said he expects staggered dispensary openings across the state as businesses work individually to secure final state approval and product for their shelves. He expected many to open in the first half of 2021.
"A lot of companies are moving pretty diligently," he said. "They're trying to get product out to patients as quickly as possible."
He said Blue Arrow is planning its first harvest in the spring of 2021.
In order for the state's program to run seamlessly, several licensees along the supply chain need to pass state inspections and become operational, business owners said.
"The dispensaries won't be able to function properly unless they have adequate access to flower product," Bonanno said.
"The biggest challenge that we're seeing now is the ability to have product for those dispensaries," said Susan Griffith, president of CAMP Cannabis, which stands for Certified Alternative Medicine Providers.
"We also have to factor in testing facilities as well as transportation (licenses)," she said. "There are a lot of different license types that are all under their own timelines to get operational. At the end of the day, we're going to need all of them to be able to get dispensaries their product."
Griffith's company is planning to open a cultivation facility on the 7100 block of North Broadway Avenue in St. Louis with the goal of scheduling a state commencement inspection for December, "as soon as we wrap on construction."
"We have construction teams on site," Griffith said, adding that the company was awaiting a construction permit from the city. "We'll be ready to start building as soon as we get the go-ahead (from the city).
"Our goal is to get plants in the ground immediately upon the commencement approval," Griffith said.
Griffith said she's not worried about competitors having an advantage over her company by starting their grows earlier.
"I think there's definitely going to be no oversupply," Griffith said. "So I think that everyone has a great opportunity to get themselves to market and establish themselves."
Get high-interest updates about the budding marijuana industry around the St. Louis area.