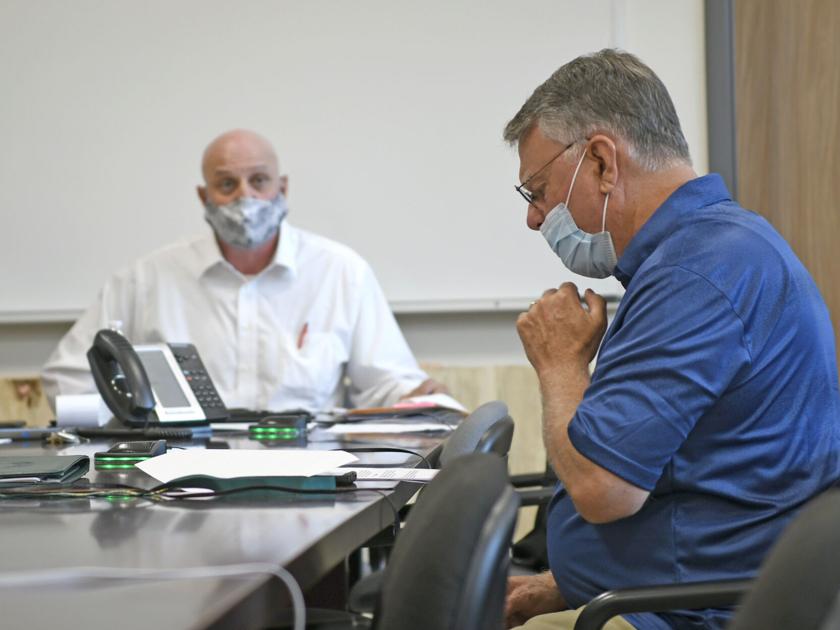 BLUEFIELD — The Mercer County Board of Health has rejected a request from the City of Bluefield to permit medical cannabis dispensaries in the county.
No action was taken on the request during Wednesday's board meeting and that left the March decision standing when board members voted unanimously to deny permission for any of the dispensaries to locate anywhere in the county.
In 2017, the West Virginia Legislature joined 32 other states in making medical cannabis legal, which means marijuana in different forms can be used for patients when recommended by a physician.
Since that time, details of how the operations will work, including production and supplies, have been ongoing as dozens of businesses have filed for a permit to either produce or sell it.
Several officials from Bluefield made the request to change the March decision at the board's July 31 meeting.
A dispensary business had approached the city about opening up a facility, and the officials said they not only provide a public health benefit for those who need it, but also an economic boost.
Jim Spencer, director of community and economic development for Bluefield, told board members the health benefits are substantial and he would support the dispensaries for that reason alone.
City Manager Dane Rideout said that, so far, Mercer County is the only county in the state to deny permission.
The dispensaries create jobs, bring in tax revenue and provide a medical need, he said, pointing how the county is seeing a dire economic situation, and if local residents can't get it here, they will travel to another county where the dispensaries are located.
"We can't delay that and get paralysis through analysis and drag this thing out and miss that boat," he said.
Board members agreed to consider it at that July 31 meeting..
But when on the city asked the county commission, which can reject a board of health decision, on Tuesday to write a letter of support to the board, opposition surfaced.
Two commissioners, President Gene Buckner and Greg Puckett, expressed reservations and Puckett made it clear he is opposed to it.
Puckett said he understands some of the benefits but "marijuana is not medicine" and he is concerned it may be overprescribed like opioids have been.
Buckner said he is concerned about it as well and did some research that shows only 12 of the state's 55 counties have so far agreed to allow the dispensaries and ""two of those are not happy with what they have done."
The commission tabled the request for a letter of support.
During Wednesday's board of health meeting, member Stacy Hicks said he had received a letter from the City of Princeton on the issue of medical cannabis dispensaries.
"The consensus position of city council in regard to medical marijuana is not favorable," he said.
Hicks said Mayor David Graham said it may have some positive benefits, "but at this time we would require more medical information to offer our support."
Board Chair Dr. Randy Maxwell said he has done "a lot of digging on this."
Only West Virginia residents can use a dispensary, he said, so Virginia residents cannot buy medical marijuana here.
Insurance companies won't pay for it, he said, and it can be expensive, with an average cost of $200 to $300 a month.
"Most people who could benefit, it would be unavailable because of the cost," he said.
Maxwell also has concerns about quality control of the product.
Legalization of medical marijuana has been spreading in states around the country as support has grown, often citing varied studies done that show benefits for those who have many issues, including cancer, Parkinson's, Alzheimer's and many others.
In March, the AARP (American Association of Retired Persons) Board of Directors approved a policy supporting the medical use of marijuana for older adults in states that have legalized it.
According to the organization's website, the decision was based on the growing body of research suggesting marijuana may be helpful in treating certain medical conditions and symptoms. The policy also notes that decisions related to the use of medical marijuana should be made between a patient and a health care provider and appropriately balance clinical evidence of benefit and harm.
"The AARP also supports further clinical research of medical use of cannabinoids to help alleviate both the symptoms of disease and the side effects of the treatment for diseases," the policy says. "AARP believes the DEA's [Drug Enforcement Administration] classification of marijuana as a Schedule I controlled substance deters the medical use and scientific study of cannabinoids and calls on federal officials to examine options to allow more clinical research."
The West Virginia Medical Marijuana website lists five criteria for patients:
• Patients must be at least 18 years of age. If under the age of 18, patients must have an authorized caregiver.
• Patients must be diagnosed with one or more qualifying condition(s).
• Patients must register with the Bureau of Public Health.
• Qualified patients must then obtain a physician's certification and apply for a Medical Cannabis Identification Card and pay the application fee.
5. • Patients will then be able to obtain Medical Cannabis at a Licensed Dispensary.
The bill that passed in 2017 allows individuals affected by specified debilitating conditions to obtain medical cannabis in the form of pills, oil, topical forms, liquid, tincture, dermal patch, and non-whole plant forms for use with a nebulizer or vaporizer but does not support treating these conditions with smoking or packaged edible products. The comprehensive medical marijuana bill has created a fee structure for dispensaries and growers and will issue 30 dispensary permits and 10 grower permits. The Bureau of Public Health started issuing marijuana patient ID cards on July 1, 2019.
The WV Medical Cannabis Commission started providing licenses for marijuana dispensaries on July 1.
— Contact Charles Boothe at cboothe@bdtonline.com