As Richard Smith reflected on the past three years he has spent working to get his cannabis business up and running, the Lompoc resident likened the experience to a nonstop roller coaster ride.
While that ride still isn't over, it has passed a significant milestone.
Smith and his staff have officially opened the doors to the new CropLand Health dispensary, which welcomed its first customers Saturday.
The shop, which is located at 321 North Second St., is the 10th dispensary to open in Lompoc since the start of 2019, and is the third to open in the city since the COVID-19 pandemic led to widespread shutdowns in mid-March.
The dispensary, however, represents just the start for Smith and his team, which is also in the process of establishing distribution and manufacturing operations out of other commercial spaces on the same site.
"It still almost doesn't feel real because it's taken over two years just to get this project (the dispensary) to this point," Smith said Tuesday from the new store's showroom. "I'm excited. It's kind of a dream come true to see a lot of this stuff on paper and now it's real."
While the dispensary is technically new, many locals will likely be familiar with its major players.
Smith, who grew up in Lompoc, had previously been involved in a nonprofit cannabis collective before the retail cannabis industry was legalized by state voters in 2016. He noted that he brought some employees from that operation with him to the new business, and he also joined forces with another nonprofit collective that had been in operation in Santa Barbara County from 2011 to 2019.
Sandra Contreras, a manager at the CropLand dispensary, had worked with that latter collective and said she was excited to welcome familiar faces to the new business.
"Our members have been so happy to see us back, and that's been the thrill of the whole thing," she said, noting that CropLand has worked to maintain the 2,000-plus clients that had been served through the previous collectives.
Smith said the main focus for his businesses, and the reason he is seeking a vertically-integrated enterprise, is to provide "good-quality cannabis, low prices, no BS."
To that end, he noted that the dispensary will sell products in larger quantities than can typically be found in other dispensaries, with a goal of having at least 50% of products sourced locally.
Smith said he feels like his backgrounds both in Lompoc and in the cannabis industry have him uniquely positioned to serve the local market.
"This isn't an L.A. market or a San Francisco market, and we're fully aware of that, so we try to match up our products to meet the needs of our folks," he said, noting that cost savings will be a top priority.
Smith said he already has his distribution licenses approved by the state and city, and he is now going through the building permitting process. Once that is all done, he said he plans to use that operation to keep costs — and, therefore, prices — down at his dispensary by establishing relationships with other distributors to the north and south of Santa Barbara County.
"Since we're centrally located [in the state], we want to offer them like satellite distribution options, and that way we can get those products in our store at a low cost, since we're already distributing out of here, and then pass those savings on to our customers," he said.
The manufacturing side of the operation, planned for the third phase, would also benefit the dispensary, Smith said, by allowing CropLand to source a lot of its products from area farms.
Smith noted that the distribution and manufacturing operations could also help connect CropLand with other businesses in the state and potentially lead to partnerships or expansion in the future.
"Long term, if the border walls fall when it comes to inter-state commerce, then hopefully we can expand beyond the state," he said. "But right now our main goal is just to get this facility fully vertically integrated and then pump all that back into the community."
Smith's hyper-local approach also includes his staff, as he said he has prioritized hiring Lompoc community members.
The shop itself also features a significant nod to the local community.
One of the showroom's main walls is covered with a vinyl wrap displaying a large photo-realistic image of the Santa Rita Hills, with a vibrant cannabis farm superimposed in the foreground.
The dispensary, in keeping with the industrial vibe of the surrounding neighborhood, features exposed vent ducts and concrete flooring.
Another wall in the shop has a wood carving of a modified U.S. flag with a large cannabis leaf in the section of stars and a solid green line running horizontally down the middle. Smith said the piece represents the "thin green line" and is meant to honor people who have been imprisoned or otherwise harmed or killed due to cannabis having previously been illegal.
While Smith expressed his appreciation for finally opening the dispensary, he noted that he and his partners still have a lot of work ahead.
"We're getting there, but it's a slow process," he said. "City staff was already stretched thin on resources and now COVID just slowed things down even more. That's the big challenge — getting through the permitting process and getting build-out done and finding contractors that will do the work right and do a quality job."
063020 CropLand 02.jpg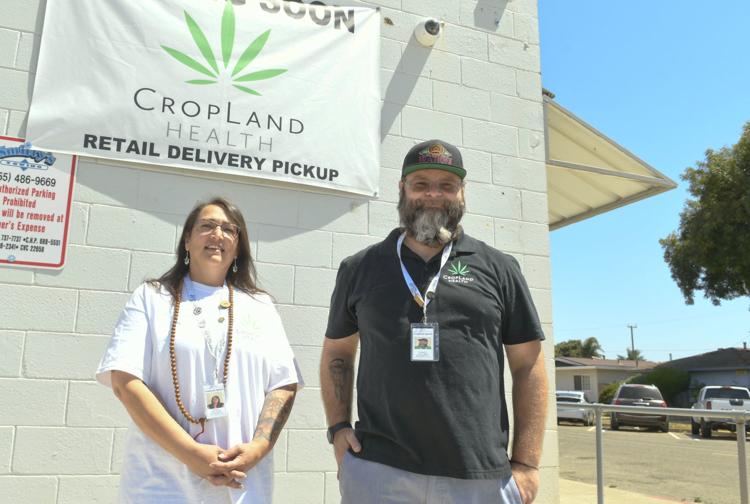 063020 CropLand 01.jpg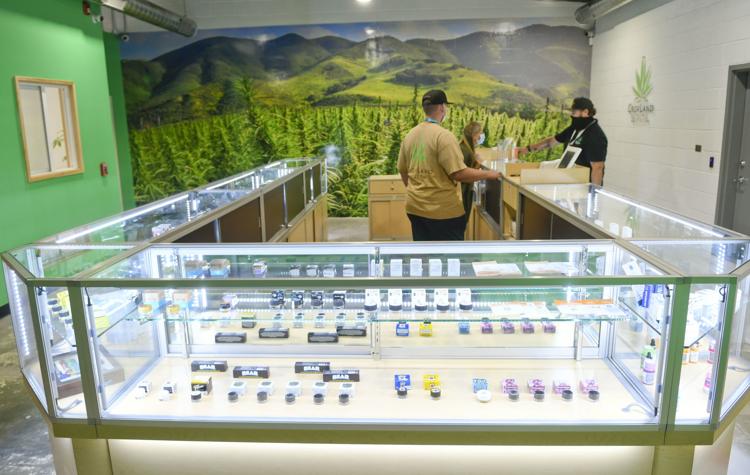 063020 CropLand 03.jpg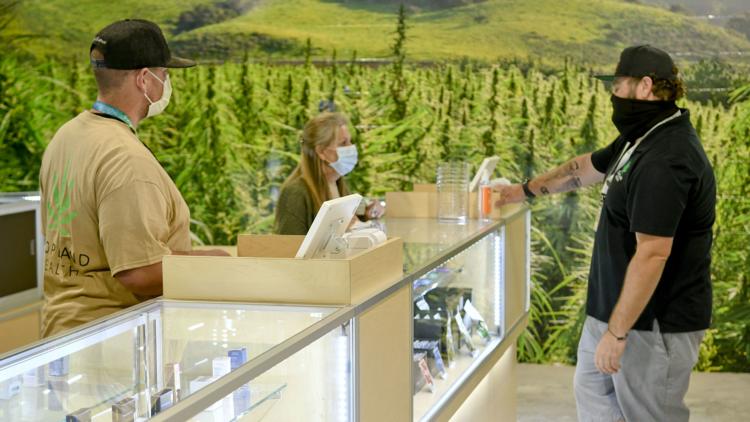 063020 CropLand 04.jpg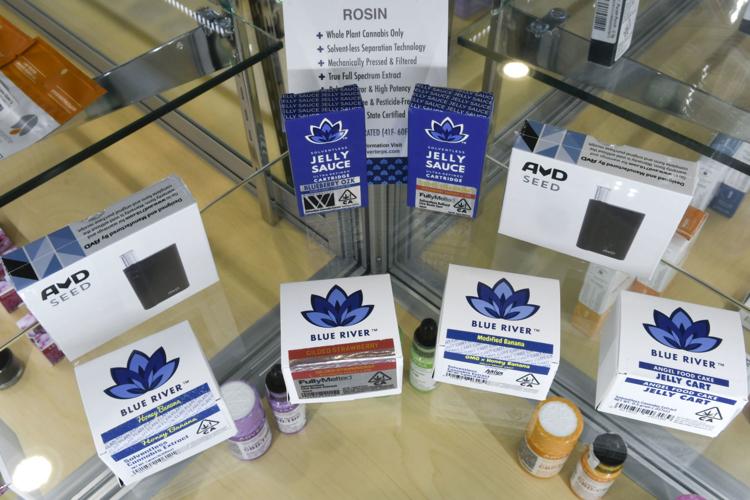 063020 CropLand 05.jpg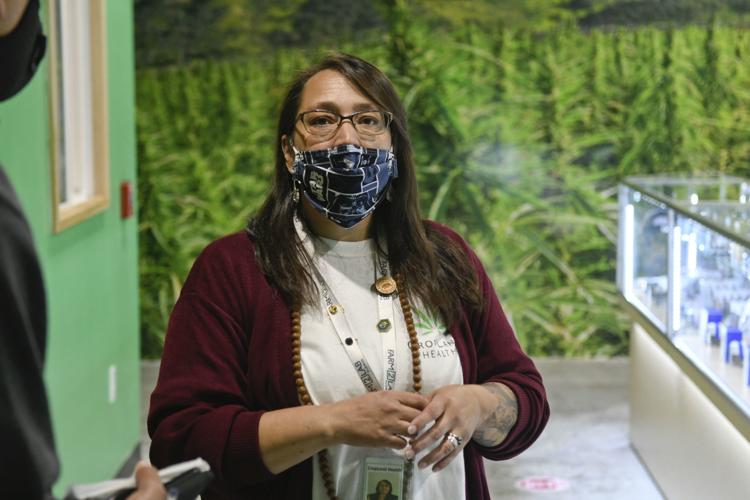 063020 CropLand 06.jpg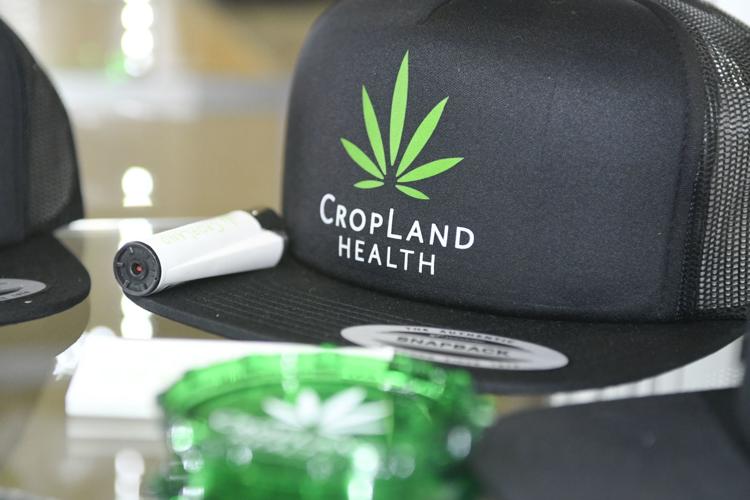 Willis Jacobson covers the city of Lompoc. Follow him on Twitter @WJacobsonLR.
Sign up now to get the most recent coronavirus headlines and other important local and national news sent to your email inbox daily.